22nd Annual Traditional Prayer Vigil and Feast For the Freedom of Leonard Peltier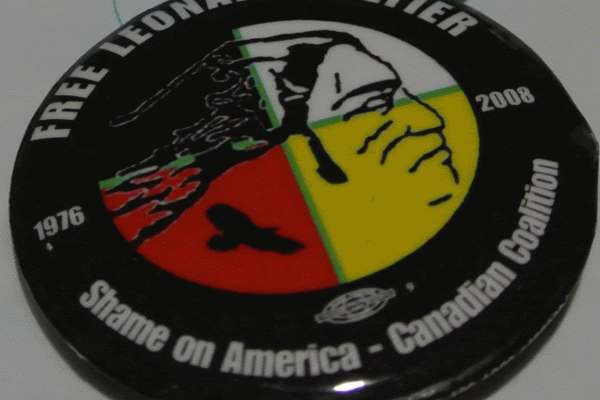 Feb. 7th, 2015 Toronto, Canada
The Toronto Council Fire First Native Cultural Center, in partnership with Leonard Peltier Defense Committee Canada (LPDCC) hosted the 22nd Annual Traditional Prayer Vigil and Feast Calling For the Freedom of Leonard Peltier: in commemoration of the 39 years of false imprisonment for American Indian Movement political prisoner Leonard Peltier, #89637-132 u.s.p. Coleman, Florida.
The morning program 10 am-12 noon included short documentaries and the feature film "Incident At Oglala: The Leonard Peltier Story."
The evening event 1-7pm, MC was Darlene Ritchie, Oneida Nation and Council Fire board member. The vigil was opened with a prayer and remarks by Vigil Elder, Bruce Elijah Faith Keeper, Oneida Nation, Andrea Chrisjohn, Council Fire board designate,and the AIM song by Council Fire All Nation Drum. Speakers from LPDCC included Frank Dreaver, Mstawasis Plain Cree, LPDCC founder, Paulette Dauteuil, LPDC u.s. and Jericho Movement, Anne Dreaver, LPDCC, and Gordon Peters, Grand Chief, AIAI.
Between programs, there was a wonderful feast of all traditional food: Corn soup, White Fish, Venison Stew, sweet potato, turnips, Squash white beans, and beets, and wonderful oven and Fried bread. And for desert 2 white cakes Strawberry Drink, coffee, Tea and water.
The dinner speakers were Len Bush from the Canadian Postal Workers union, Dave Bleakney from  CUPW_Sttp and Maria Elena Mesa from the People's Poetry, Music & Art Festival Collective. Through the Vigil there many speakers, spoke of the urgency to get Leonard Peltier free, and the memories of past Vigils and those who are now among the Star Nation: Bob Robideau, Art Solomon, Lew Gurwitz, and others that had been part of this vigil in the past. Through out the evening the Drummers sang, a Round Dance and Honor song.
The vigil ended with a Traveling Song for Leonard to bring him home and to get all the guest home safely and a wonderful Give-a-Way.