Robert Seth Hayes Medical Justice Days of Action: April 27 - 30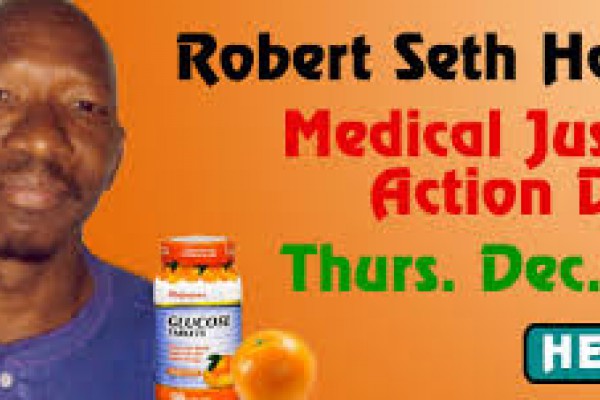 Robert Seth Hayes is one of the longest held political prisoners in the US. He is 66 years old and suffers from multiple chronic and concerning medical problems. As many of you know, we recently waged a medical campaign for him a few months ago regarding rapid and concerning weight loss as well as poorly controlled diabetes. Neither of these concerns has been addressed to date. NYS DOCCS states on its website that denial of adequate medical care is a violation of a person's eighth amendment constitutional rights, so please help demand that Seth be provided with proper care.
***Please join our phone and fax campaign!***
THINGS YOU CAN DO:
1) On Monday, 4/27 and Tuesday, 4/28 please call:
       ***Acting Commissioner Anthony J. Annucci, 
       NYS Department of Corrections at (518) 457-8134
       ***Dr. Carl J. Koenigsmann, Chief Medical Officer, DOCCS Division of Health Services 

       at (518)-457-7073
      ***Nancy A. Lyng, MS, Director of Health Services, at (518) 445-6176
2) On Wednesday, 4/29 and Thursday 4/30, please fax (you can use a free online fax service like faxzero.com if needed):
***Acting Commissioner Anthony J. Annucci at Fax: (518) 457-0076
***Dr. Carl J. Koenigsmann M.D. at Fax: (518) 457-2115
***Nancy A. Lyng, MS at Fax: (518) 445-6157
***Suggested talking points***
State who you are calling about and include his prisoner #: Robert Seth Hayes,  #74-A- 2280 at Sullivan Correctional Facility;
Say that you are requesting:
1) an assessment and modification of his insulin treatment,
2) that he is given a full work-up to have potential malignancies been ruled out considering his weight loss, and,
3) that he is finally prescribed a diabetic diet.