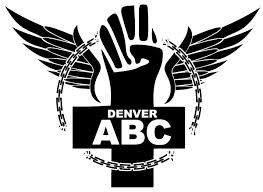 The Denver Anarchist Black Cross exists to contribute to the defense of social movements, both internally and externally, working against oppression and for self determination.
Since its inception at the beginning of the 20th Century, the mission of the Anarchist Black Cross has been to contribute to the defense of mass movements working for liberation from state and capitalist domination. The most previous incarnation of an Anarchist Black Cross chapter in Denver was snuffed out of existence quite quickly in 2004, after a full scale FBI investigation into the organization was launched to coincide with the security efforts protecting the Democratic National Convention that summer. The resulting FBI investigation spread to include the Great Plains Anarchist Network and dozens of anarchist organizers active in the Midwest.
With this history in mind, but also amidst a backdrop of increasing state attacks on social movements in the United States, we decided to form a new Denver chapter of the ABC. We felt that the time is far past due to organize methods of defense within our communities, and that under the historical banner of the Anarchist Black Cross was one strategic way to proceed with our work.
Historically, the Anarchist Black Cross has played a crucial role in mass movement defense; organizing support and defense of political prisoners and prisoners of war, maintaining physical solidarity against the police during factory and school occupations, organizing self defense and armed defense of social movements, and fulfilling a broad range of roles within the defense of social movements.
We wish to carry on this work and start to explore other avenues of movement defense that have historically not been a major focus of many ABC chapters.
The state and those that wish to destroy movements for liberation attack us on many levels. Support for political prisoners and prisoners of war, organizing against white supremacist and neo-fascist attacks, performing roles of security and physical defense, and organizing self-defense and legal defense on a variety of levels will continue to be a main backbone of our work.
From the Green Scare to the arrest of former Panthers, from the cases of the RNC 8 to mass incarceration and deportations of migrants, the state has been busy attacking our communities and movements over the last several years.
However, we wish to also focus on the internal mechanisms that affect movements and lead to their demise. These internal threats are used to split and destroy movements far before they even become a threat. We envision an ABC chapter capable of contributing to the strengthening of our movement by providing mental, emotional, material, and physical support to its members and their communities. Ultimately, we want to help ensure the strength of our movements from the inside out.
We're still figuring out what all this looks like. We're still working to understand how to provide the best support possible within our social movements and to maintain our movement as a legitimate and strong threat to state, capitalist, white supremacist, patriarchal power and other forms of domination.
Any questions, concerns, comments, ideas, wishes to collaborate or participate, contact us at denverabc@riseup.net
Also, you can check out our blog at denverabc.wordpress.com and our fan page athttps://www.facebook.com/denver.anarchistblackcross
Mail and physical correspondence can be sent to:
Denver Anarchist Black Cross

PO Box 11236

Denver, CO 80211
In love, solidarity, and for a strong healthy movement that can defend itself from all threats!