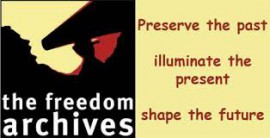 About The Freedom Archives
The Freedom Archives contains over 10,000 hours of audio and video tapes which date from the late-1960s to the mid-90s and chronicle the progressive history of the Bay Area, the United States, and international movements. We are also in the process of scanning and uploading thousands of historical documents which enrich our media holdings. Our collections include weekly news, poetry, music programs; in-depth interviews and reports on social and cultural issues; numerous voices from behind prison walls; diverse activists; and pamphlets, journals and other materials from many radical organizations and movements.



These materials constitute a compelling record of 50 years of recorded sound, images and cultural diversity. The music/poetry mixes, production techniques, and sound collages represent an innovative contribution to the art of radio and the cultural ambiance of "the 60s" and subsequent decades.



Among our collections include an extensive materials on La Raza centering around audio tapes about Latino culture, community and news  from independent producers Jesse 'Chuy' Varela—now at KCSM—and Pajaro Latino by Jorge Herera at KPOO (a program that continues to this day). We also hold a comprehensive collection of the radio work of the late Colin Edwards—who produced programs for the BBC, Canadian Broadcasting, Irish Radio, and Pacifica Radio about everything from the Black Power Movement to Vietnam and the Middle East.



The Freedom Archives also contains exclusive material on the civil rights, student, antiwar, prison, women's, and LGBTQI movements along with broad collections on the Puerto Rican independence struggle, political prisoners and in-depth reports on key events from San Francisco to South Africa.



Lessons of the Recent Past



There is an overwhelming need for the young people of today to have access to non-filtered, non-biased educational resources that allow them to learn more about our recent history. Young people need to know about and understand the aims, events, accomplishments and setbacks of those influential times. 



The archives and projects growing from the collection can help satisfy a growing interest by youth of many cultures in these social and cultural currents, and can assist them in unearthing lessons of the recent past even as they raise new concerns of their own. Educational programs utilizing multifaceted audio resources can convey recent history to high school and college students in dramatic ways that cut through the stereotypical depictions of textbooks, the mainstream media, and commercialized mass culture.



Educational Resources



The collection is not only an invaluable resource to young people and students, but also to teachers, diverse community organizations and media outlets, filmmakers, activists, historians, artists and researchers. In efforts to encourage younger generations to explore our many social justice collections, we've launched a digital search engine that is media-sample-driven and allows for a less academic and more user-friendly exploration of our materials. You can access the search engine at search.freedomarchives.org. There are also resources including video clips and curriculum on our blog.



We are also in the process of developing historical curricula based on primary sources, often misrepresented by textbooks and popularized history.



Preservation



We need your help to preserve these invaluable historical materials! Many of our older audio and video formats have begun to deteriorate and aspects of our paper collection also need attention. Without preservation, the very existence of these materials as a vital resource for young people and future generations will be lost. On a shoestring, with largely volunteer labor, we have assembled the equipment and facilities to begin both the data base classification of the materials and the re-mastering of the collection. It is critical to preserve this oral history. You can contribute to this work by donating here.



Internships

Our youth internship program will ensure that young people also play a crucial role in these tasks while benefiting educationally, technically, and in their future pathways and careers. A training program for students and new program producers provides experience in aspects of historic restoration, research, librarianship as well as media production and journalism.