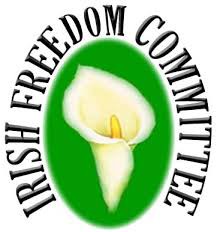 The Irish Freedom Committee
The Irish Freedom Committee® (IFC) is an American-based human rights activist  organization. We oppose the 1998 Stormont Treaty with Britain-- disingenuously titled the "Good Friday Agreement" or "Peace Process"-- as it is a British-imposed document which has nothing to do with peace, but is designed only to shore up Partition and to strengthen British rule in Ireland. While the 1998 Treaty was presented to the people of Ireland as the prerequisite to peace, peace has not indeed been the outcome; and instead the result has been the total surrender of Ireland's constitutional claim to the Six Counties, the return of the hated Stormont seat of puppet British government with its built-in loyalist veto, and the re-strengthening of the illegal partition of Ireland. The Irish Freedom Committee does not endorse any political organization in Ireland, but we remain strong proponents for the complete and total removal of British military and administrative rule in any part of Ireland. It is our firm contention that a continued British military presence in Ireland is the root cause of the struggle. We support an immediate International inquiry into the illegal British claim to the Occupied North of Ireland, and we will continue to seek an Independent International Inquest into ongoing British War Crimes in Ireland.
The Irish Freedom Committee is committed to the pursuit of TRUTH with JUSTICE in a Free, United, Sovereign All-Ireland Republic. 
Recent News
IFC CONDEMNS CHARGES AGAINST MARIAN PRICE
CELLS WRECKED IN MAGHABERRY DIRTY PROTEST - UTV
VIOLENT STRIP SEARCHES AT MAGHABERRY GAOL CONTINUE! ACTION NEEDED - SAMPLE LETTERS
POSITION DOCUMENT by NONCONFORMING POWs, MAGHABERRY GAOL
DECEMBER 2010 - FAMILY VISITS DENIED, POWs ASSAULTED
SUPPORT THE POWs!

SAMPLE LETTERS and CONTACTS to demand an end to STRIP SEARCHES and ASSAULTS at Maghaberry Jail
AUGUST 12, 2010 - MAGHABERRY PRISON CAPITULATES TO POW DEMANDS
MAY 26, 2010 -  LIAM HANNAWAY ENDS HUNGER STRIKE  
MAY 15, 2010 - SITUATION CRITICAL FOR IRISH HUNGER STRIKER - ACTION NEEDED
MAY 11, 2010 - POW GRAVELY ASSAULTED at MAGHABERRY - ACTION NEEDED
POWS IN EASTER TAKE-OVER AT MAGHABERRY JAIL
TERRY McCAFFERTY FREED!
MICHAEL CAMPBELL TRIAL DRAGS ON

Urgent help needed for Michael Campbell
FREE COLIN DUFFY

Political Hostage
The Irish Freedom Committee® is a Nation-wide, Registered Not-for-Profit, wholly U.S.- based organization with no Foreign Principal.  We are dedicated to education on the true root causes of the 850-years resistance against British occupation,  and to the humanitarian and charitable support of the dependents of anti-Treaty Irish Republican Political Prisoners. 
Our Objectives
The Irish Freedom Committee®  strives to:
Monitor media coverage on British presence in the Occupied Six Counties.  
Expose media misrepresentations of the true nature of British occupation in Ireland.  
Alert others to defamatory portrayals of the Irish wherever they appear in the media.
Educate the public on the root cause of the ongoing war in Ireland. 
Correct revisionist propaganda which attempts to depict the war in Ireland as a "religious" conflict -- a cultivated lie that hides the true motivation for British occupation of Ireland.  
Alert and educate others to ongoing British State terrorism, extra judicial execution,  and War Crimes.
Assist, however legally possible, the families and dependants of anti-Treaty Republican political prisoners incarcerated for their belief in a United and Sovereign Ireland, free of British military or economic occupation.