Abu-Jamal, Mumia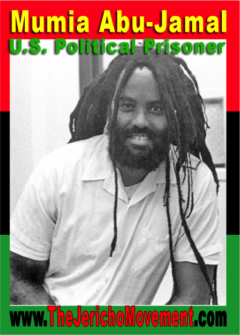 Black Panther Party - Move
Contact Information
Prison Address
Smart Communications/PA DOC
Abu-Jamal, Mumia #AM 8335 SCI-Mahanoy, P.O. Box 33028
United States
Affiliation: Black Panther Party, MOVE

Captured: 1981-Life without parole 

42 YEARS IN PRISON
Birthday: April 24, 1954
On December 9, 1981 Mumia Abu-Jamal, a journalist and former Black Panther, was arrested for the murder of a white Philadelphia police officer Daniel Faulkner. He was convicted and sentenced to death in a trial that was rife with perjured testimony and manufactured evidence that Amnesty International found, "did not meet the minimum international standards for a fair trial."
Mumia was working as a cab driver to make extra money when he happened upon Officer Faulkner, who had stopped his brother Billy Cook, and was beating him in the head with a metal flashlight. The prosecutor, Joseph McGill, presented a story that has Mumia running behind the officer and shooting him in the back. He then claimed that the officer turned around and pulled his weapon, shooting Mumia in the chest. McGill ends the story by saying the officer fell to the ground, where Mumia stood over him and unloaded on him, missing with four shots but hitting him once between the eyes. McGill also claimed that Mumia confessed to the shooting later on in police custody.
None of the physical evidence supports the prosecution's case! Mumia did legally own a gun, not uncommon for anyone driving a cab in Philadelphia during that time. However, the police never tested his gun to see if it had been fired nor tested his hands to see if they had recently fired a gun. They bullet taken from Faulkner could not be matched to Mumia's gun.
There were no divots in the sidewalk around the officer's head, as there would have been if the shooter had stood above him. The only bullets that were found were approximately eight feet west of where Faulkner was laying and were from an angle that would not have been possible from the trajectory where Mumia entered the scene. The bullet wound that hit Mumia also debunks the prosecution's scenario. The bullet was traveling at a hard downward trajectory, suggesting that his body was learning forward while still running to the scene when he was shot, and that the officer was elevated, likely standing on the sidewalk. The prosecution witnesses told different stories in their original statements than they did at trial. One, a prostitute named Cynthia White, changed her story five times by the time she reached trial. Another, a cab driver named Robert Chobert, who was driving with a suspended license while on probation for arson, first told arriving officers, "the shooter ran away." He then said the shooter ran thirty feet and fell, despite the fact that Mumia was laying less than three feet from Faulkner. Crime scene photographs that were never disclosed to the defense until 2007 show that Chobert was not parked where he said he was. They also confirm that there were no bullet divots around Faulkner's head, that police collected evidence incorrectly – damaging its integrity, and that the officer's hat had been moved from its original place on the roof of a car, suggesting that Faulkner was talking to a passenger. Four different witnesses claimed that they saw someone running from the scene.
There were three different police officers who claimed that Mumia confessed. The only officer who testified at trial, Gary Bell, claimed that after Mumia was brought into Jefferson hospital for his gunshot wound that he yelled, "I shot the motherfucker and I hope the motherfucker dies." However, the officer never made a report of the incident and claimed to have forgotten this crucial information for over sixty days. He had no recollection until after Mumia's defense attorney file police brutality charges due to the fact that the officers beat him when they arrived on the scene. After that filing all three officers came forward in the subsequent weeks with stories of a confession. The two other officers, Gary Wakshul and Thomas Bray, came forward and neither of them had made a report on the night of the shooting. Wakshul even went as far in his original report to say, "The male negro made no statements." He made a second report a week later where he offered recollections of tiny details, even so far as to remember the make and model of a camera found in Faulkner's car, but made no mention of a confession. He later claimed that he just forgot.
Wakshul claimed that Mumia said, "I shot the motherfucker and I hope the motherfucker dies" while lying on the ground in the ER, unlike Bell, who claimed he said it while entering the hospital. Bray claimed that later while on a gurney Mumia confessed to him but in his story Mumia said, "I shot him and if you let me go I will kill all of you cops." The doctor who operated on both Mumia and Faulkner heard no confession and neither did any of the hospital staff. None of the officers corroborated each other's stories.
At the trial the defense tried to call Gary Wakshul after Mumia discovered his report claiming that "the male negro made no statements." The prosecution claimed that Wakshul was unavailable due to being on vacation. The judge refused to delay the trial and told Mumia and his attorney that they "goofed." The defense would later learn that, though Wakshul was technically on vacation, he was instructed by the DA's office to stay at home in case he was called for trial, a fact that was hidden by the prosecutor. 
Mumia had a court appointed lawyer who did not have the funds to investigate witnesses or do any ballistics investigations whatsoever. The judge who presided over the case was Albert Sabo, a former Sheriff and member of the Fraternal Order of Police who presided over more trials ending in death sentences than any other judge in the US. A third of all lawyers surveyed by the American Bar Association in Philadelphia said that he was unfit to be on the bench.
While the original trial was underway a court stenographer for Judge Richard Klein, Terri Maurer-Carter,  entered Sabo's chambers and overhead Sabo complaining about the performance of the prosecution and said, "I'm gonna help them fry that nigger".
During Mumia's Post Conviction Relief Act Hearings Judge Sabo was brought out of retirement to preside. He sustained every single prosecution objection and quashed most of the subpoenas brought forth by the defense. He did not find that Mumia deserved a new trial and said so in a finding of fact that was a carbon copy of the prosecution's closing brief.
In 2001, District Judge William Yohn overturned the death sentence, citing inconsistencies in the original sentencing process. On March 17, 2006, the state of Pennsylvania filed an appeal seeking to reinstate the order for the execution of Abu-Jamal. On May 17, 2007, the U.S. Court of Appeals for the Third Circuit heard oral arguments in Abu-Jamal's appeal, with his attorneys attempting to obtain a new trial and the government seeking the reversal of Yohn's overturning of Abu-Jamal's original death sentence. On March 27, 2008, the three-judge panel upheld Judge Yohn's 2001 opinion but rejected Abu-Jamal's attorneys' claims of racial bias on the part of the jury. On July 22, 2008, Abu-Jamal's petition seeking reconsideration of the decision by the full Third Circuit panel of 12 judges was denied.
In December 2011 prosecutors in Pennsylvania announced that they would abandon their efforts to have Abu-Jamal put to death, in part because several witnesses had died or were no longer available to testify. The decision left Abu-Jamal to serve a life sentence without the possibility of parole. During this time his attorneys continued to seek a new trial. Their claim concerning forensic evidence was rejected by the Pennsylvania Supreme Court in 2012. However, in late 2018 a judge reinstated Abu-Jamal's right to appeal, noting that one of the court's justices should have recused himself, since he had previously worked as a district attorney, thus raising the question of bias.
On March 31, 2023, Judge Clemons refused to see gross constitutional violations by Philadelphia prosecutors in Mumia's case. This recent ruling by Clemons dismissed the core issue in Abu-Jamal's appeal: fundamental damage done to Abu-Jamal's defense by prosecutors who withheld evidence that undermined their case for decades. Prosecutors misled judges with claims that they released all information to Abu-Jamal's lawyers.
The appeal documentation Clemons rejected included meticulous details of requests from Abu-Jamal's lawyers over the decades for Brady material, material prosecutors persistently failed to release. Prosecutors claimed in court that they released that requested information but did not. Some of that information was released months, years and decades later. It's unclear today if prosecutors have released all Abu-Jamal information in their possession.
Judge Clemons claimed with crystal-ball clarity that Brady evidence, withheld for 36-years, would not have convinced the trial jury to find Abu-Jamal not guilty. Further, Clemons claimed that withheld evidence of Batson issues by the trial prosecutor was not a violation that she could address.
DA Krasner fought to free many falsely imprisoned persons due to prosecutorial misconduct, yet fought to block lawful relief for Abu-Jamal. This evidences the institutional animus against Abu-Jamal exhibited by police, prosecutors, and judges ever since Abu-Jamal's arrest on December 9, 1981.
This ruling by Clemons perpetuates the pattern of willful participation in the institutional animus against Abu-Jamal by judges. Mumia's defense team is currently working on their appeal.
Mumia is ill, suffering from cirrhosis of the liver. In addition, he underwent successful heart surgery after being diagnosed with Covid-19 and congestive heart failure in March of 2021. He also lost his wife Wadiya on December 27, 2022.
"Very few people in prison have voices that go beyond the wall. It's my job to do the work for them because they have no one."

FreeMumia.com