Ali Osman Köse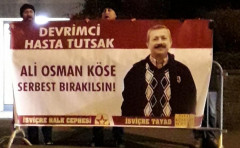 Turkish Political Prisoner
Treatment of sick prisoner Ali Osman Köse is prevented deliberately and he is not released. He is condemned to death in Turkey! It has been delayed purposefully for the cancer to spread.
He isn't released although he couldn't sustain his life alone in prison!
TREATMENT IS NECESSARY IMMEDIATELY,
EXECUTION OF THE SENTENCE IS POSSIBLE AT ANY TIME!
WE DEMAND ALI OSMAN KÖSE'S FREEDOM AND WE WILL GET IT!
Ali Osman Köse started a hunger strike on July 2021 in support of his lawyers Ebru Timtik and Aytaç Ünsal, who were on death fast for demanding a fair trial. He still does not remember the period after the 8th day of this hunger strike. Subsequently he was unable to walk or speak. Ali Osman Köse has not experienced unprecedented effects such as he has experienced on this occasion in previous short-term hunger strikes.
However, Tekirdağ State Hospital performed a simple blood test and decided that there was no problem and sent Ali Osman Köse back to prison.
As the difficulties of walking and speaking disorders and memory issues continued, applications were made for detailed examinations by re-referral to the hospital. Health problems were not detected and reported in the examinations carried out at the Tekirdağ State and City hospitals. As a result of objections and applications, diagnostic tests and examinations continued. He was only examined by sight at the Forensic Medicine Institute and a report was submitted with the view that he could stay in prison. However, it was later determined that he had a cancerous mass in his kidney. Although he needed to be operated on urgently, his surgery was delayed. Ali Osman Köse now has one kidney and continued to be held in Tekirdağ Type F Prison without knowing if the cancer has spread in his body or not.
The illnesses of Ali Osman Köse and the process of not being treated consciously are also detected in the doctor's reports.
1. On 9th July 2020, a report was prepared by The Urology Outpatient Clinic of Tekirdag State Hospital confirming that no urgent admittance was required.
2. In the subsequent report it was stated as follows:
"BRAIN MRI: There are signs of cerebral adenosclerosis. Paralytical bilateral ischemic foci are present. Hyperopia + Hypertension, Cerebral sensorineural. HEARING LOSS-DECREASE. NEUROLOGICAL EXAMINATION: HE CAN STAND AND WALK WHEN HE HOLDS ON TO SOMETHING."
Ali Osman Köse, who could not meet his basic needs by himself was given a medical clearance. However, at that time:
He was only able to walk by holding on to something.
He could not meet his needs such as taking a bath and washing his clothes on his own.
He was having problems with perception and memory.
He couldn't prepare his meal by himself.
He was forgetting when to take his medication.
He had difficulty in reading and writing.
He continued to have hearing and vision impairment.
ALL THE NEEDS OF ALİ OSMAN KÖSE who has also been suffering from blood pressure for many years ARE STILL MET BY HIS PRISONER COMRADE, WHO IS HIS COMPANION. Despite this situation, he was presented with the report stating that HE CAN STAY IN PRISON.
3. On 26th November 2020, TEKIRDAG NAMIK KEMAL UNIVERSITY HOSPITAL submitted a report to Ali OSMAN KÖSE stating "Both Kidneys are Natural in Dimensions and their Contours are Regular".
4. ON DECEMBER 9, 2020, TEKIRDAG NAMIK KEMAL UNIVERSITY HEALTH COMMITTEE REPORTED THAT HE CAN STAY ALONE IN THE PRISON.
5. ON 27th JANUARY 2021, AT TEKIRDAG CITY HOSPITAL, TO WHICH HE WAS TRANSFERRED TO AS A RESULT OF INSISTENCE OF HIS LAWYERS, IT WAS DETECTED THAT ALI OSMAN KÖSE HAD A 9 CM CYST IN HIS KIDNEY.
6. The hospital report, dated 27th JANUARY 2021, was concealed by both the prison and the ministry. Neither he nor his lawyer knew about this report.
7. ALI OSMAN KÖSE, WHO CAME TO THE FORENSIC MEDICINE INSTITUTE ON 1st FEBRUARY, ONLY 5 DAYS AFTER THE REPORT AT THE CITY HOSPITAL OF TEKIRDAG, IN WHICH A 9 CM CYST WAS FOUND, RECEIVED FOLLOWING REPORT BY THE FORENSIC MEDICINE INSTITUTE ON 5th FEBRUARY 2021:
TEN EXPERT DOCTORS UNANIMOUSLY DECIDED FOR ALI OSMAN KÖSE: "... It is unanimously agreed that the execution of his sentence can continue under prison conditions by ensuring that he is followed up by outpatient clinic."
SO, ALI OSMAN KÖSE HAD A 9 CM SIZED CYST IN HIS KIDNEY WHEN HE WENT TO THE FORENSIC MEDICINE. THE REPORT OF THE FORENSIC MEDICINE DID NOT CONTAIN A SINGLE SENTENCE REGARDING THE CYST AND ISSUED A FIT NOTE.
DESPITE THE KNOWLEDGE OF THE 9 CM CYST, THE FORENSIC MEDICINE INSTITUTE ISSUED A "FIT NOTE" STATING THAT "HE CAN REMAIN IN JAIL."
8. Ali Osman Köse was operated on 31st May 2021 and his cancerous kidney was removed. The surgery was performed exactly 4 months after the diagnosis of cancer. He was kept waiting for 4 months before being taken to another hospital on the grounds that the intensive care unit at Trakya University Medical Faculty Hospital was full. While surgical intervention is supposed to be performed as quickly as possible for cancer patients, it was implemented 4 months later for Ali Osman Köse. Every hour, minute or even a second that lapses is very critical; because cancer cells continue to multiply by dividing uninterruptedly.
9. In the report signed by the Trakya University Rector Prof. Dr. Erhan Tabakoglu, dated 15th September, 2021, it was said: "As a result, the procedures to be done during the diagnosis and treatment of the convicted patient Ali Osman Köse were performed properly, the patient's surgery was performed and his treatment was arranged. Contrary to the allegations, the convicted patient Ali Osman Köse's surgery was performed. He was treated and it was decided that there was no other matter to be investigated."
So, neither the patient himself nor his lawyers were informed about the additional treatment that should have been done after the removal of the cancerous mass.
10. In the report prepared by the Tekirdağ City Hospital Health Board on 11 August 2021, it was stated:
"The execution of the sentence does not need to be postponed due to the illness of the person mentioned in his current state. He lives alone under the conditions of the Penitentiary Institution. He has undergone an operation for the left kidney tumour and still no metastasis has been detected. An outpatient follow up accompanied by imaging by the oncology department is appropriate after 3 months."
Ali Osman Köse's lawyers requested that his state is evaluated after the operation and that the execution of the sentence is postponed and he is released. The response of the Tekirdağ 2nd Execution of the Sentence Judge dated 16th September 2021 was to reject the application based on the report of Tekirdağ City Hospital dated 11.08.2021. However, this hospital report does not have an oncologist's signature. In this report, it was not clarified whether the cancerous cells had spread. And although it is not known whether the cancer has spread to other organs or not, it has been stated that he may "stay in prison alone".
Oncology is a branch of medicine that deals with the formation of cancer, its causes, its relationship with heredity, diagnosis, treatment, statistics about cancer and prevention from cancer. The oncologist is a doctor specialising in cancer. There is no statement of the specialist of the disease in the aforementioned report.
WAITING MEANS CONDEMNING ALI OSMAN KÖSE TO DEATH. HOWEVER, CHEMOTHERAPY, RADIOTHERAPY AND MANY DIFFERENT OPTIONS THAT ARE ACCEPTED ALL OVER THE WORLD MUST BE ASSESSED AND TREATMENT MUST BE CONTINUED. ALI OSMAN KÖSE WAS DENIEDALL OF THESE AND LEFT TO DIE.
11. No report was received from Trakya University Medical Faculty Hospital, where he was operated. With the Tekirdağ City Hospital report, let alone being released it was said that he could even stay alone. In other words, there is no oncologist approval in the report, no approval from the hospital that performed the surgery. A hospital that did not know the process and people who were not cancer specialists reported on the disease.
12. Ali Osman Köse was not even given a choice of options for his own treatment, nor was he given any information. The post-operative treatment process was not implemented. It is expected that the cancer spreads to another organ and metastasises.
The Constitutional Court decided that Ali Osman Köse's right to life and treatment was not violated because his right to access the health services was not hindered and declared that there was no need for his release.
This is the kind of health service that Ali Osman Köse and sick prisoners can access.
A tumor that develops between 2-4 years is not noticed, surgery is delayed for several months, a panel that doesn't include an oncologist evaluates the risk of metastasis and reports that the patient can stay in prison...
With this sort of "health services" sick prisoners are sentenced to death in prisons.
WHAT DO WE WANT?
Ali Osman Köse Was a Member of Revolutionary Youth and He Is a Justice Fighter!
Ali Osman Köse Has Been a Free Captive Resisting Against Isolation Practises In the Prisons of Fascism for 38 Years.
Ali Osman Köse Is Our Honour and a Strong Representative of the Tradition of the Uncompromising Free Captives.
They Couldn't Force Ali Osman Köse to Surrender with Isolation; They Are Trying to Kill Him with Cancer.
They Expect the Death of Ali Osman Köse, Who Couldn't Be Forced to Surrender for 38 Years.
The Forensic Medicine Institute, Collaborator of the Fascist Akp Government, Has Become a Murderer; Doctors Have Become Executioners. They've United Their Forces to Kill Ali Osman Kose By Preventing His Treatment!
We Will Not Let You Kill the Sick Prisoner Ali Osman Köse!
Sick Prisoner Ali Osman Köse Must Be Released Immediately!
Ali Osman Köse, Who Has Cancer, Should Be Treated Immediately!
Execution of the Sentence Can Be Implemented at Any Time, But the Treatment Must Be Done Immediately!
It Is Not Possible to Treat Cancer Disease Under Isolation Environment and Prison Conditions.
It Is Not Known If the Cancer Has Metastasised. The Forensic Medicine Is Waiting for Metastatic Spread.
So, They're Waiting and Hoping for the Spread of Cancer and the Death of Ali Osman Köse!
Let's Not Let Them Kill Ali Osman Köse.
Execution of the Sentence Can Always Be Implemented but the Treatment Cannot Be Delayed! Treatment Must Be Done First and the Sentence Must Be Executed Thereafter!
Ali Osman Köse Must Be Released Immediately and Treated.
Treatment Is Necessary Immediately; Execution of the Sentence Is Possible at Any Time!
Those Who Expect This to Happen Is the Trio of Gangs; Mainly The Akp Government Composed of Ministry of Justice, the Forensic Medicine Institution and the Tekirdag F-Type Prison Administration.
FREEDOM FOR ALI OSMAN KÖSE COMMITTEE
Blog: https://freealiosmankose.wordpress.com/
E-mail: freealiosmankose@gmail.com
Twitter: @aliosmankoese