Chubbuck, Byron Shane (Oso Blanco)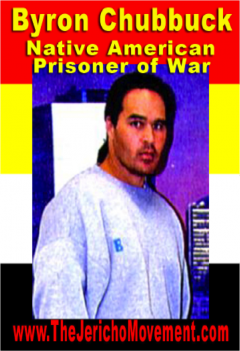 First Nation Political Prisoner
Contact Information
Prison Address
#07909-051 USP Victorville
PO Box 3900
United States
Birthday: February 26, 1967

Affiliation: Ejército Zapatista de Liberación Nacional, EZLN Defender

Captured: 1999 – Release Date 2071 

IN PRISON 24 YEARS
THE CASE
Oso Blanco became known by the authorities as "Robin the Hood" after the FBI and local gang unit APD officers learned from a CI that he was robbing banks to send thousands of dollars to the Zapatista Rebels of Chiapas regularly during 1998 and 1999.
He is now serving 55 years in prison for bank robbery, aggravated assault on the FBI, escape and firearms charges. Oso Blanco defended himself from federal agents in a gun battle on August 13th 1999 at his home in Albuquerque, New Mexico. Although he escaped, he was arrested later that day and sentenced to time in New Mexico's state Penitentiary. After serving just over a year in New Mexico, he escaped from a prison transport van and almost immediately began robbing banks. He was recaptured a short time later.
Oso Blanco never used a gun in any bank robbery, but he has a long history of living by the gun and will not hesitate to use it on the agents of repression or the occupiers of Aztlán who force false laws on the true people of this land.
He is not asking for monetary support; he's only asking that people become aware of indigenous people's issues. In an interview he expressed "I am still able to hold my head up high and feel the gratification for my work in a world where money, power and destructive industries are regarded far above humanity, indigenous and impoverished peoples and cultures. I cannot help that I got deeply into my work…."
"We shall no longer kill Mother Earth and everything else just to have modern technologies and pay for death as tax slaves. We shall rise up refusing to be slaves to commerce and political lies, in our own Land."
"We shall be High master" – High master of the heart Realm of Higher Consciousness.
Please support the Brown Berets
Please send aid to the EZLN
I AM OSO BLANCO de Aztlán