Geronimo Ji Jaga 1947-2010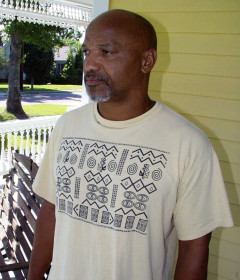 Elmer G. Pratt, Jailed Panther Leader, Dies at 63
Elmer G. Pratt, a Black Panther leader who was imprisoned for 27 years for murder and whose marathon fight to prove he had been framed attracted support from civil rights groups and led to the overturning of his conviction, died on Thursday in a village in Tanzania, where he was living. He was 63.
Mr. Pratt, who was widely known by his Panther name, Geronimo ji-Jaga, had high blood pressure and other ailments, his longtime lawyer, Stuart Hanlon, said. Mr. Hanlon said he did not know the exact cause of death.
To his supporters — among them Amnesty International, the N.A.A.C.P. and the American Civil Liberties Union — Mr. Pratt came to symbolize a politically motivated attack on the Black Panther Party for Self Defense and other radical groups. But from the start, the grisly facts of the murder of a 27-year-old teacher dominated discussions of the case, including those of the parole board that denied parole to Mr. Pratt 16 times.
The teacher, Caroline Olsen, and her husband, Kenneth, were accosted by two young black men with guns on Dec. 18, 1968, in Santa Monica, Calif. They took $18 from Mrs. Olsen's purse. "This ain't enough," one said, according to the police, and ordered the couple to "lie down and pray."
Shots were fired, hitting Mr. Olsen five times and his wife twice. Mrs. Olsen died 11 days later. Mr. Pratt was arrested.
The case against Mr. Pratt included evidence that both the pistol used as the murder weapon and the red-and-white GTO convertible used as the getaway car belonged to him. An informant wrote an eight-page letter asserting Mr. Pratt had bragged to him that he committed the murder.
Fellow Panthers did not support Mr. Pratt's alibi that he was in Oakland, more than 300 miles away, at the time of the killing. A witness identified Mr. Pratt as one of two men who tried to rob a store shortly before the murder. And Mr. Olsen identified Mr. Pratt as the assailant.
Mr. Pratt was convicted of first-degree murder on July 28, 1972, and sentenced to life imprisonment a month later.
Information gradually surfaced that the jury had not known about when it reached its verdict. Mr. Olsen had identified someone else before he identified Mr. Pratt. Documents showed that the informant who said that Mr. Pratt had confessed to him had lied about himself. Wiretap evidence that might have supported Mr. Pratt's alibi mysteriously vanished from F.B.I. files.
Photo
Elmer Pratt, known as Geronimo, in court in California in 1997.CreditHaywood Galbreath/Associated Press
A public debate erupted over the extent to which Mr. Pratt and the Black Panthers had been singled out by law enforcement agencies. J. Edgar Hoover, director of the F.B.I., called the Panthers a threat to national security, and an F.B.I. report spoke of "neutralizing" Mr. Pratt. Others saw the Panthers and their leaders as a voice of black empowerment and as a service group that provided free breakfasts to the poor.
In an interview with The New York Times in 1997, John Mack, president of the Los Angeles Urban League, said, "The Geronimo Pratt case is one of the most compelling and painful examples of a political assassination on an African-American activist."
As Mr. Pratt languished in solitary confinement, his supporters shed light on his case by hanging a banner from the Statue of Liberty. His lawyers, led by Johnnie L. Cochran Jr. — famed for defending O.J. Simpson — assembled ammunition for an appeal.
In 1997 a California Superior Court judge, Everett W. Dickey, vacated Mr. Pratt's conviction on the grounds that the government informant, Julius C. Butler, had lied about being one. Moreover, it was learned that the Los Angeles Police Department, the F.B.I. and prosecutors had not shared with the defense their knowledge that Mr. Butler was an informant.
A juror, Jeanne Rook Hamilton, told The Times: "If we had known about Butler's background, there's no way Pratt would have been convicted."
California lost its appeal to nullify Judge Dickey's decision in 1999, and the Los Angeles County district attorney ruled out a new trial. In 2000, Mr. Pratt received $4.5 million from the federal and local governments as settlement in a wrongful-imprisonment suit.
Mr. Pratt said he would have preferred to press the matter in a trial so he could air the government's "evil scheme," but decided to accept his lawyers' advice and take the settlement.
Elmer Gerard Pratt, the name he rejected at 20 as that of a "dirty dog" slave master, was born on Sept. 13, 1947, in Morgan City, La. His father was in the scrap-metal business. Elmer liked to shoot rabbits and sell them. He was a high school quarterback, then joined the Army, serving two tours in Vietnam, earning two Purple Hearts and emerging a sergeant.
Mr. Pratt attended the University of California, Los Angeles, where he studied political science and joined the Panthers. He rose to lead the Los Angeles branch. He moved to Tanzania because he had friends there and had always wanted to live in Africa.
He is survived by a daughter, three sons, two sisters and two brothers. He was godfather to the slain rapper Tupac Shakur.
http://www.democracynow.org/2011/6/6/former_black_panther_leader_and_pol...