Hilton, Freddie (Kamau Sadiki)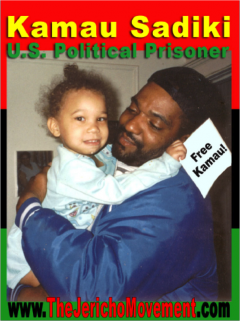 Contact Information
Prison Address
#0001150688 -Augusta State Medical Prison,
Bldg 23A-2, 3001 Gordon Highway,
United States
Birthday: February 19, 1953

Affiliation: Black Panther Party

Captured: February 2, 2001: Life + 10 years

 
Kamau Sadiki is a father, grandfather, and Political Prisoner. He is also a veteran of the Black Panther Party, wrongfully convicted when the FBI, in their efforts to recapture Assata Shakur, convinced Atlanta police to reopen a 30-year-old cold case murder of a Fulton County police officer, and charge Mr. Sadiki.
The police told Kamau that if he worked with them and "got Assata to leave Cuba" and go to some other country where they could apprehend her, they would not prosecute on the false police killing charge. The police offer was rejected, and Kamau, now serving a Life plus 10 years sentence, has always maintained his innocence.
Kamau Sadiki is now 70 and in poor health with Hepatitis C, cirrhosis of the liver, blood pressure issues, open infectious wounds and sarcoidosis. Every day is a struggle for him, and for his two daughters and grandchildren, who are devastated by the absence of their loving, hard-working father and grandfather, who supported them by working for the telephone company in New York for over eighteen years. Today Kamau's daughters work tirelessly in their efforts to release him.