Iyaluua Ferguson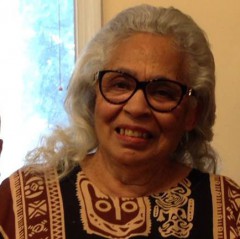 Iyaluua Ferguson is a great great-grandmother with over a half-century of activism in the struggle for human rights and the liberation of Black people. She is one of the 500 signers of the Declaration of Independence of the Republic of New Afrika, and served as Chairperson of the Peoples Center Council, the governing body of the Provisional Government of the Republic of New Afrika, for six years. She is the widow of Baba Herman Ferguson, an icon in the Black Liberation Struggle.
Iyaluua actively struggled against the racism in the public schools of New York City -- in the classroom and at times going toe to toe in battles with the NYC education bureaucracy. She continued her passion and concern for the education of young people during her voluntary exile with her husband in Guyana, South America. She served as the Executive Editor or the Guyana National Service Publishing Center, writing, editing and publishing educational materials for the schools and training materials for the Guyana National Service.
When Herman returned to the u.s., Iyaluua was catapulted into the arena of political work -- first struggling for Herman's release, then becoming a staunch advocate for the release of all political prisoners.
As a member of MXCC she initiated and spearheaded the Dinner Tribute to the families of Political Prisoners in the New York area. She also initiated and coordinated the essay contest "The Legacy of Malcolm X -- Its Meaning and Its Message" -- held annually in the schools of NYC and Newark.
She points with pride to her 10-year service as Editor of the quarterly digest -- NATION TIME. The newspaper was devoured by our incarcerated brothers and sisters and became their link to the struggle outside and inside the walls.
In July 2009, Iyaluua and Herman relocated to their daughter's home in North Carolina. Herman joined the ancestors on September 25, 2014.