King, Eric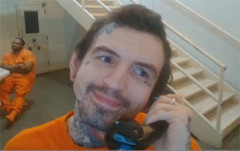 Contact Information
Prison Address
Eric King #27090-045
USP Florence ADMAX, P.O. Box 8500
United States


web: https://supportericking.org

fb: https://facebook.com/SupportEricKing/

twitter: https://twitter.com/SupportEricKing

instagram: https://instagram.com/supportericking/

Legal fundraiser: https://fundrazr.com/e1cKo1
Affiliation: Anarchist

Arrest Date: September 2014

Sentence: 10 years
Currently indicted in the federal District of Colorado for assault on government official, faces up to 20 years.
Eric G. King, a 34-year-old vegan anarchist political prisoner and poet, was arrested and charged with an attempted firebombing of a Congressperson's office in Kansas City, Missouri in September 2014. As part of his plea and sentencing, Eric publicly and proudly acknowledged that his intent was to take direct political action in solidarity with the community of Ferguson, Missouri following the August 2014 police killing of Michael Brown, Jr.
Eric was charged with throwing a hammer through a window of the building, followed by two lit Molotov cocktails. The criminal complaint states that both incendiary devices failed to ignite. Eric was identified as a suspect by local police because he had previously come under suspicion for anti-government and anti-police graffiti.
On March 3, 2016, he accepted a non-cooperating plea agreement to one count of using "explosive materials to commit arson of property used in or affecting interstate commerce." Almost three months later, on June 28th, Eric was sentenced to ten years, the statutory minimum and maximum for the charge he pleaded guilty to.
Since his arrest and subsequent incarceration, he has been extremely isolated from his loved ones and has repeatedly been targeted by the guards, who have regularly put him in jeopardy. At CCA Leavenworth where Eric was held in pretrial detention, he was kept in segregation for 6 months at one point and was often subjected to stints in solitary confinement after the guards targeted him. Despite these struggles, he continues to maintain his good spirits and resolve to see this situation through to the end. He is also maintaining his dedication to struggling for a world free of domination and oppression.
Eric is currently facing one count of assaulting a government official for an incident that occurred in August 2018 at FCI Florence. Eric has been housed in a segregation cell at FCI Englewood since August 2019 fighting this charge and is on 'restricted general correspondence'. He can only receive mail from his wife and mother for a 6 month period minimally and cannot receive books and magazines. He faces a maximum of 20 additional years in prison and is fighting his case under very bleak circumstances and harassment by Bureau of Prisons staff.
Sentencing Statement
"This has been a really f**king long and hard journey. CCA sucks. It is a horrible, horrible place. They have done everything imaginable just to drain all of the life and soul out of everyone here. I have been incredibly fortunate to have so many people come into my life and take a stand with me so that I didn't have to face this shit alone. I have seen how difficult prison can be when you don't have a support team and don't have folks in your corner. I wouldn't wish that on anybody but unfortunately it is the reality for most. The system breeds such an environment.
There have been so many people that interjected themselves in my life with the sole purpose of being there for me and limiting the state's crushing effect. I don't know what I would do without those people. From the smallest greeting to the big gestures, everything has meant so much to me. Prison support is a real tangible thing that people can do for each other. We cannot have a functioning radical community without it. So thanks to everyone who reached out to me, if we still talk or not, you have been awesome.
Now that said, I stand by my actions. After seeing what happened in Ferguson, so close down the road, I was disgusted by the lack of mobilization in my city. Three hours away people were fighting for their lives and we weren't even taking to the streets. We were doing nothing. My act as a very personal display of my anger and rage toward the state as well as an act of solidarity to everyone in Ferguson. We never know our own strength until we are tested and even with my ridiculous sentence I feel at least proud to have been able to stand strong and refuse to cooperate with the state.
I am just really happy that I don't have to take this alone and have so many amazing people standing next to me. Until all are free.
Thank you for your roles in my life and for your support."